Revalor H
Growth promotant and finishing implant for heifers and steers.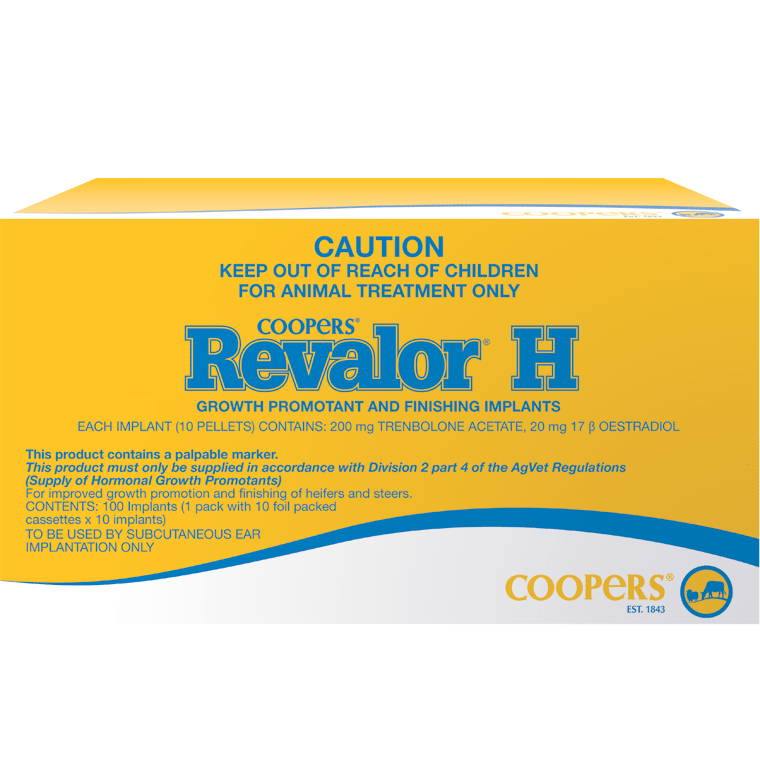 Features
Combination implant for improved weight gain and feed conversion in non-breeding cattle.
Best administered 90-120 days before slaughter.
Repeat implantation can be carried out during the growing and finishing phase, however, it is recommended not to re-implant sooner than 70 days.
Trade Advice
Category: Growth Promotant
Species: Beef Cattle
Active: 200mg Trenbolone Acetate. 20mg 17 Beta Oestradiol.
Pack Size: 100 implant pack
Withholding Periods: Meat = Nil. ESI = Nil. Milk = Do not use in heifers which are or may in future produce milk for human consumption
Storage: Store below 25 degrees (Air conditioning)
APVMA: 47248
Contraindications:
DO NOT implant this product in any other site or in any other species. DO NOT USE this product on HGP free accredited cattle.
Dose Rate
FOR USE ONLY in non breeding cattle. USE ONLY one implant per beast. Implant only beneath the skin in the middle third of the ear. Adequate nutrition is required for a good growth response. Do not re-implant sooner than 70 days after last implant.