Bovilis MH
An aid in the control of cattle respiratory disease caused by Mannheimia haemolytica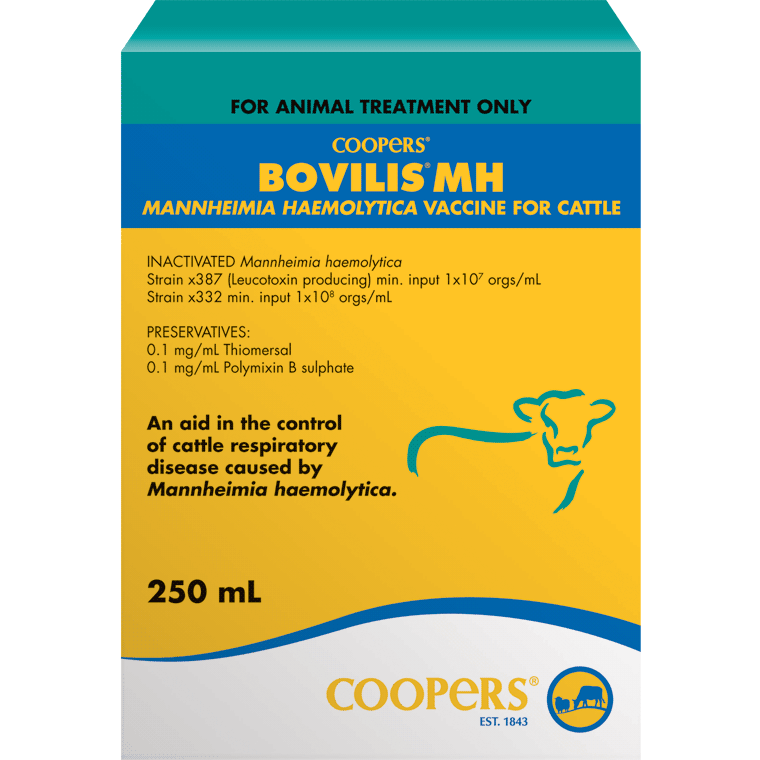 Features
An aid in the control of Mannheimia haemolytica, a key bacterial cause of Bovine Respiratory Disease (BRD) in Australian feedlots.
Can be used in beef and dairy herds, as well as calf rearing enterprises. Developed and manufactured in Australia, with demonstrated efficacy against challenge with Australian field isolates.
Two dose vaccine – ideally suited to feedlot cattle with the first vaccination given in the backgrounding stage and a booster given on induction to the feedlot.
Has been extensively used in Australian feedlots and has led to a significant reduction in the use of antibiotics to control BRD.
Trade Advice
Category: Specialty Vaccine
Species: Beef and Dairy Cattle
Active: Inactivated Mannheimia haemolytica strain x387, x332
Pack Size: 100mL, 250mL
Withholding Periods: Meat = Nil, Milk = Nil, ESI = Nil
Storage: Store between 2°C – 8°C (Refrigerate. Do not freeze)
APVMA: 55767
Dose Rate
2mL subcutaneous injection, vaccinate cattle twice 3 – 4 weeks apart