Nilzan LV
For the control of Levamisole susceptible Roundworms and Liver Fluke in sheep and cattle. Also assists in the removal of Tapeworm segments in sheep and lambs.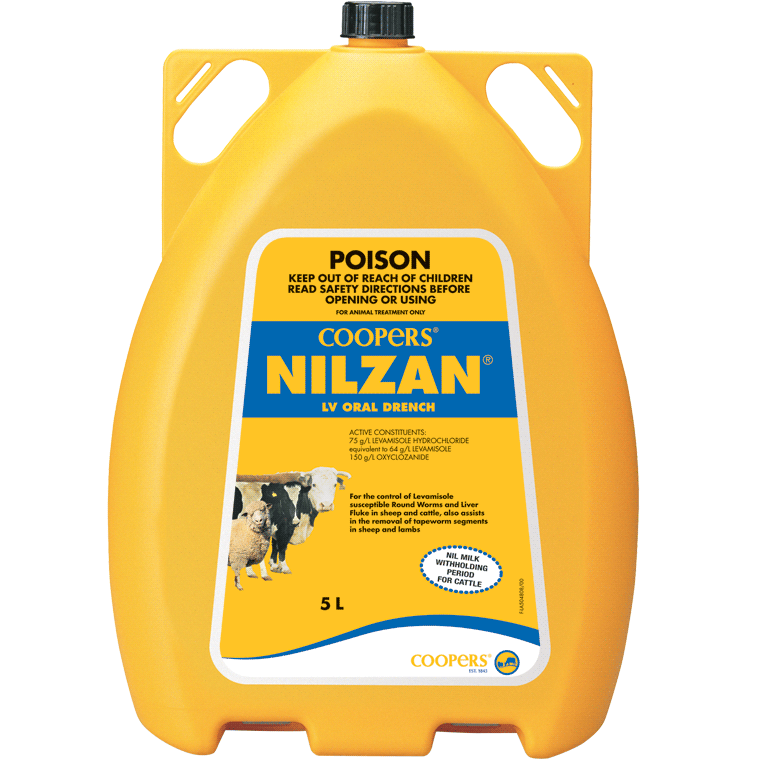 Features
Convenient one drench controls roundworm and adult liver fluke
Assists in removal of tapeworm segments.
Trade Advice
Category: Internal Parasites
Species: Beef and Dairy Cattle and Sheep
Active: 150g/L Oxyclozanide 75g/L Levamisole hydrochloride
Pack Size: 2L, 5L
Withholding Periods: Meat (sheep, cattle) = 14 days, ESI (sheep, cattle) = 14 days, Milk (Cattle) = Nil, Milk (Sheep) = do not use in ewes where milk may be used for human consumption
Storage: Store below 30 degrees
APVMA: 36089
Contraindications:
Do not treat dogs or horses
Dose Rate
Sheep 1mL per 10kg live weight. Cattle 5mL per 45kg live weight.