Stampede
Insect Growth Regulator (IGR) pour on for the control and treatment of diflubenzuron susceptible biting and sucking lice in cattle and sheep.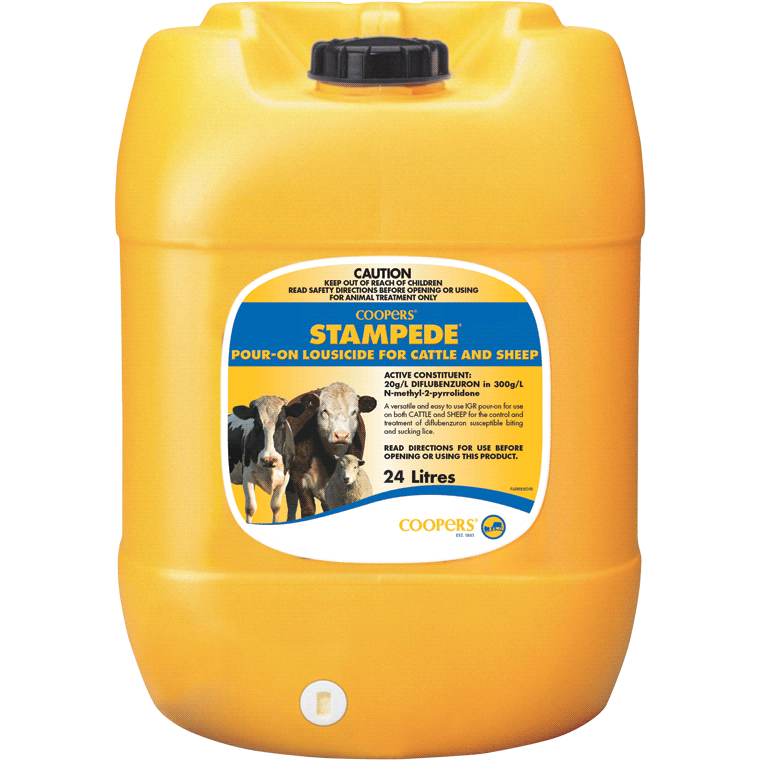 Features
Versatile – effective against biting and sucking lice in cattle.
Highly effective if used in cattle after the first cold snap in Autumn when eggs are likely to be hatching.
Stays active for months on the animal, reducing the likelihood of re-treatment being required during the season.
Control of diflubenzuron susceptible body lice in sheep.
Sheep can be treated up to 7 days off shears.
Suitable for use on unshorn lambs up to 3 months and over 10 kg body weight.
Trade Advice
Category: External Parasites
Species: Sheep and Beef and Dairy Cattle
Active: 20g/L Diflubenzuron, 300g/L N-methyl -2-pyrrolidone
Pack Size: 20L
Withholding Periods: Meat = (Cattle) 10 days (Sheep) 7 days. ESI = (Cattle) 10 days (Sheep) 7 days. Wool = 6 months. Milk (Cattle) = Nil Milk (Sheep) = Do not use in lactating or pregnant ewes where milk or milk products will be used for human consumption.
Storage: Store below 30 degrees
APVMA: 613151
Dose Rate
Refer to label for correct dose rate for cattle and sheep.