Vanquish
Spray-on lice treatment and body strike preventative for long woolled sheep and unshorn lambs. Applied as a back line treatment.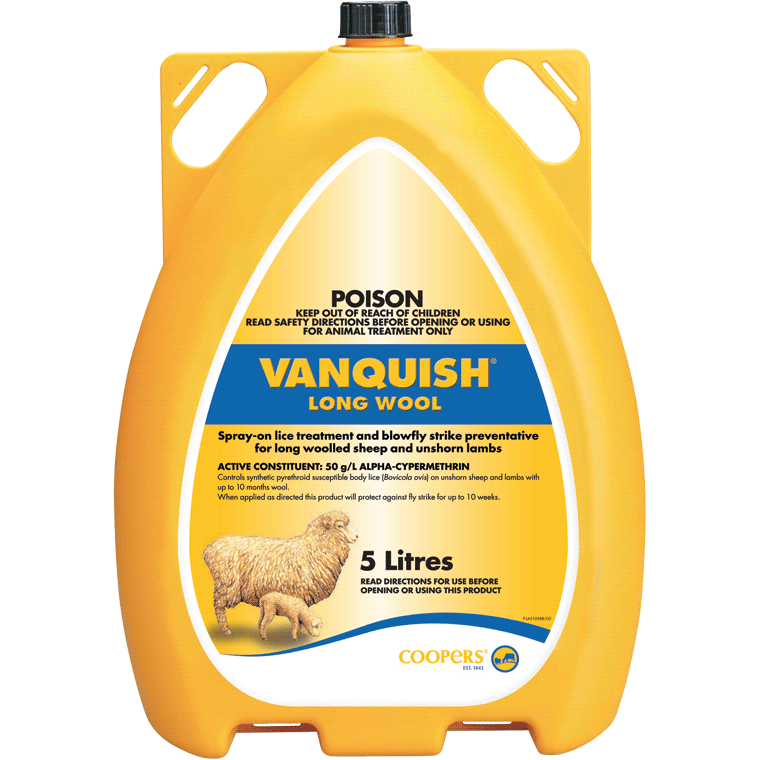 Features
Effective control of susceptible lice on unshorn sheep and lambs with up to 10 months wool.
Aqueous base.
Rain before or after treatment has little effect on product performance.
Vanquish Long Wool can be applied to wet sheep.
High level of active ingredient ensures reliable control of susceptible body lice.
Will protect agains bodystrike for up to 10 weeks.
Trade Advice
Category: External Parasites
Species: Sheep
Active: 50g/L Alpha-Cypermethrin
Pack Size: 5L, 20L
Withholding Periods: Meat = Nil. ESI = 7 days. Milk = Do not use on ewes that are or will in the future produce milk or milk products for human consumption. Wool = Do not use less than 2 months before shearing or fibre collection. Sheep Rehandling Interval = Two weeks

Storage: Store below 30 degrees
APVMA: 38354
Dose Rate
Lice Control: Adult sheep & shorn lambs – less than 4 months wool 10ml / greater than 4 months wool 20ml. Unshorn lambs – less than 2 mths 5ml / 2-6 mths 10ml / over 6 mths 20ml. Bodystrike prevention: 20ml