Bovilis MH SS RTU
A ready-to-use, fast-acting, single-shot vaccine for the protection of cattle against Bovine Respiratory Disease (BRD) caused by Mannheimia haemolytica (MH).
Significant immunological response is achieved within 7 days after a single dose vaccination and remains high for at least 180 days (25 weeks).
Bovine Respiratory Disease (BRD) is a complex disorder of cattle causing mild to severe respiratory disease and even death. It is caused by a combination of infectious agents and stress factors (marking, weaning, transport, sale yards, mixing, weather extremes, dust, handling, calving and change of diet) affecting susceptible cattle in paddock, feedlot and dairy systems. Mannheimia haemolytica is known to contribute to the development of BRD.
Passive Immunity Claim
Mannheimia haemolytica (MH) is a common bacteria that cause severe BRD early in life. Severe BRD may develop in susceptible calves challenged with MH. Calves fed colostrum from cows vaccinated in late gestation will acquire passive immunity against bovine respiratory disease (BRD) caused by Mannheimia haemolytica.
Coopers Bovilis MH Single-Shot RTU can be administered as a two-dose vaccination program to cows to protect young calves via passive immunity. Cows should be vaccinated twice in the third trimester of pregnancy with an interval of 28 days between doses. The second dose should be administered at least 3 weeks prior to calving.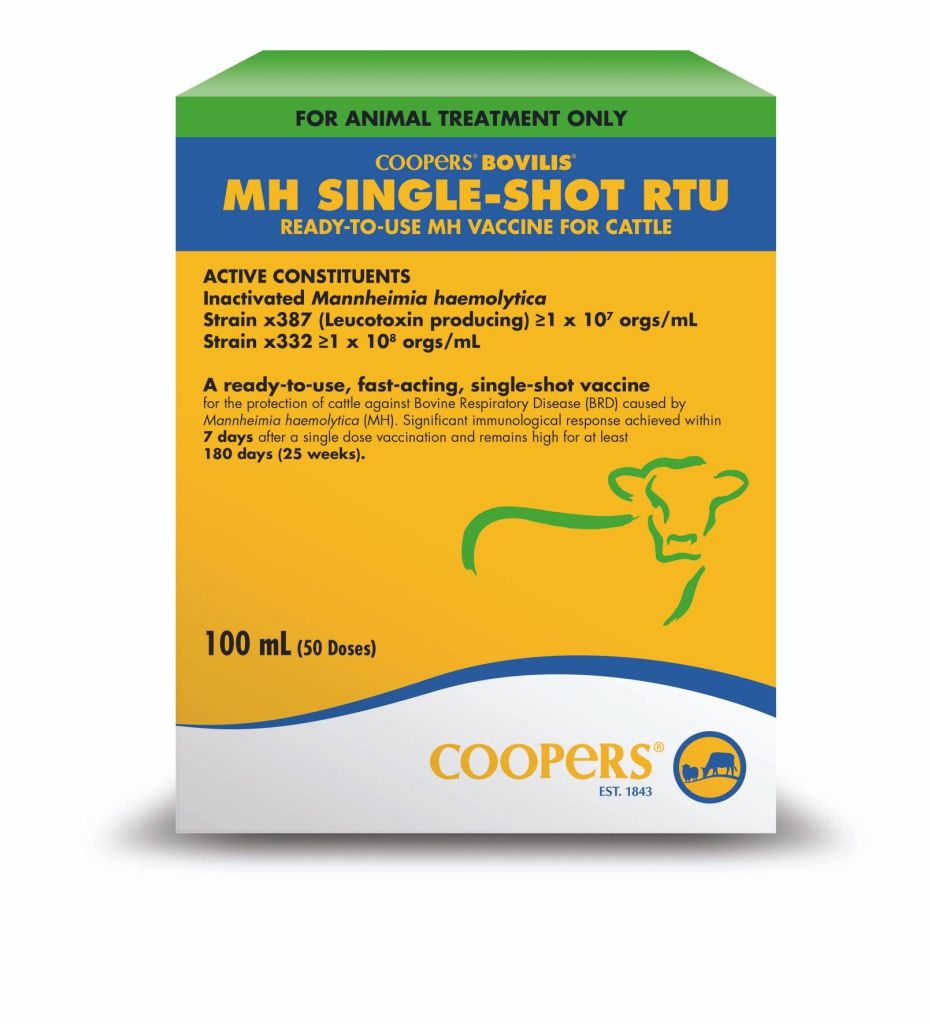 Features
Ready-to-use. Does not require reconstitution
42-day broached vial claim
Fast-acting from a single vaccination: Significant immunological response within 7 days after vaccination with a peak response at 14 days. The immunological response remains high for at least 180 days (25 weeks)
Passive immunity for calves, to protect against BRD caused by Mannheimia haemolytica, when fed colostrum from cows vaccinated in late gestation.
Note: MH Single-Shot RTU should be administered as a two-dose vaccination program to cows to protect young calves via passive immunity
Both Mannheimia haemolytica strains in MH SINGLE-SHOT RTU are from Australian isolates
Trade Advice
Category: Specialty Vaccine
Species: Beef and Dairy Cattle
Active: Inactivated Mannheimia haemolytica strain x387 (Leucotoxin producing) >1 x 107 orgs/mL Strain x332 >1 x 108 orgs/mL
Pack Size: 100mL, 250mL
Withholding Periods: Meat = Nil, Milk = Nil, ESI = Nil
Storage: Store between 2°C – 8°C (Refrigerate. Do not freeze)
APVMA: 92022