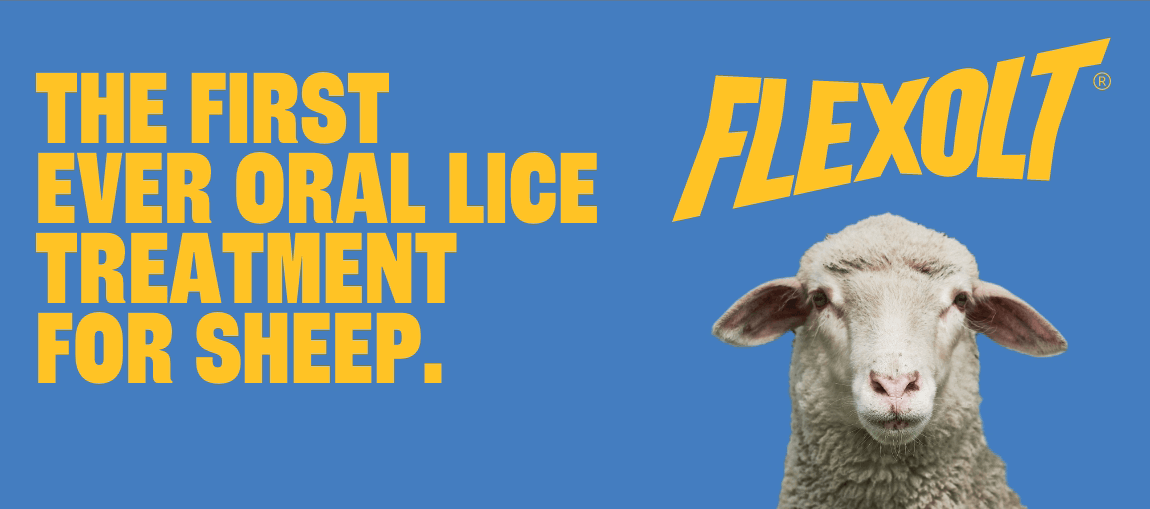 Flexolt is the new oral lice treatment that gives farmers the flexibility to treat lice when it suits them. This is a product that changes everything.

Oral lice treatment for sheep and lambs*
Flexolt contains the novel active for sheep lice control, fluralaner, which works systemically via oral administration. Simple and effective lice control starts from the inside.

Treat lice in any length of wool
Effective lice control is no longer linked to shearing. Flexolt is effective for unshorn lambs*, short wool, long wool, off-shears and up to 7 days off-shears.

Flexible lice control when it suits you
Flexolt lets you choose when it suits you to treat for lice and allows you to adapt to common challenges to simplify lice control.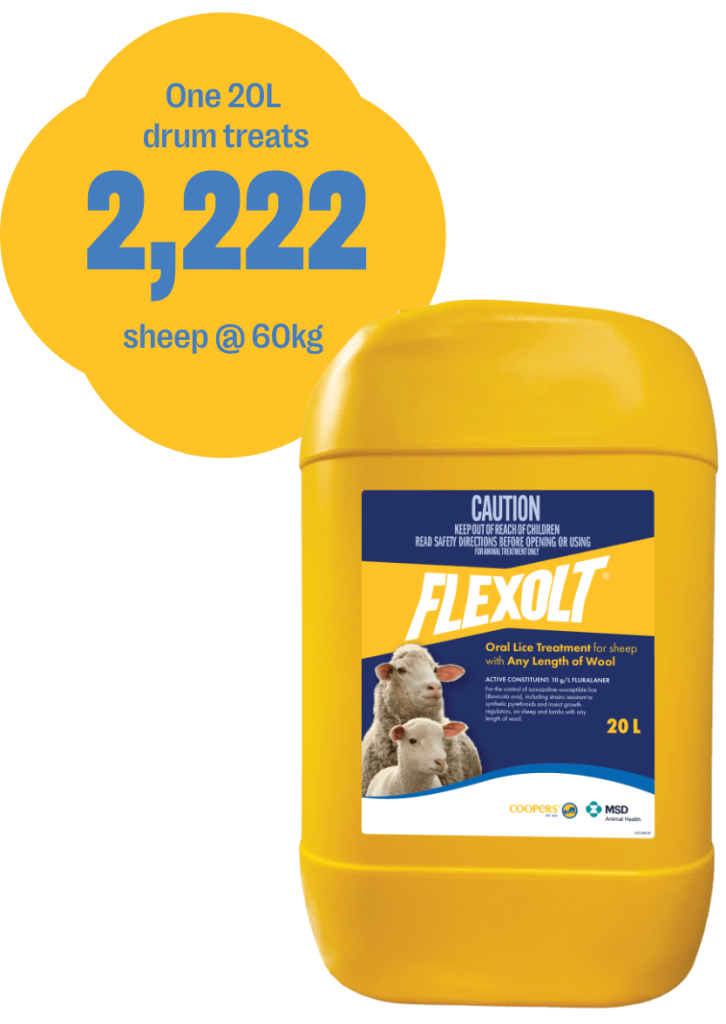 *Lambs from 6kg body weight.
Learn about all the advantages that Flexolt offers sheep producers in lice management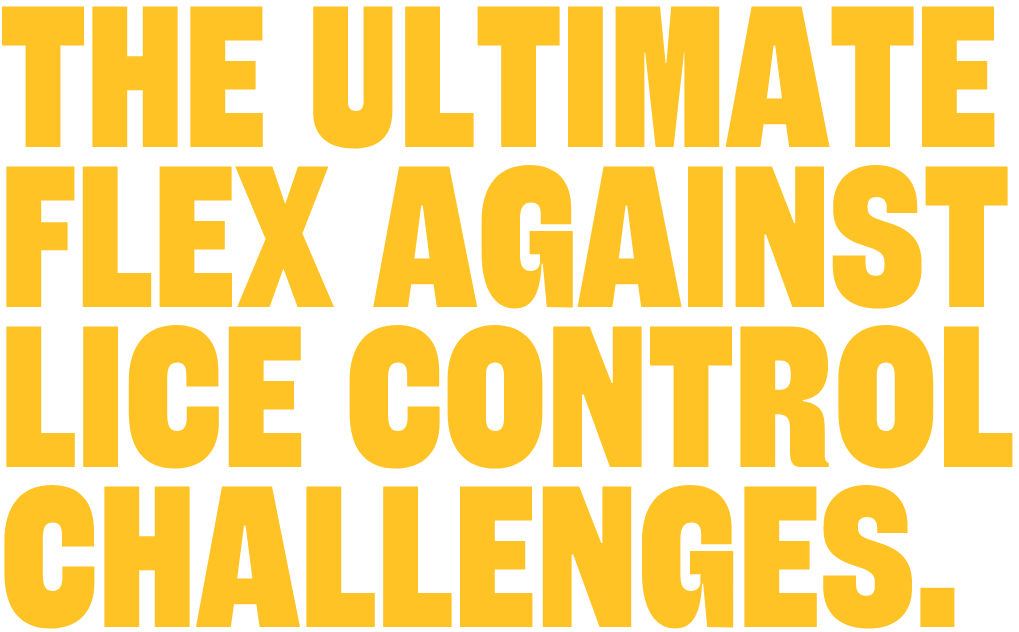 Lambs at foot
Lambs* can be treated to ensure a complete program for the flock.
*Lambs from 6kg body weight.
Rainfall delays
Oral lice control is unaffected by rain, so rain events don't have to dictate the timing of treatment.

Cold weather
Sheep can be treated without cold weather exposure issues common with dipping or jetting.

Poor Shearing
Treatment is not affected by poor shearing that can impact external application.

Long wool outbreaks
Incursion can be treated as soon as lice are noticed at mob level.

Introducing new stock
Purchased sheep can be treated off the truck regardless of wool length*
*Rehydrate sheep after transport before treatment. Sheep will need to be quarantined for a period following treatment.

Split shearing
All sheep on property can be treated at the same time – regardless of differing wool length.
APPLICATION & DOSAGE
Flexolt has been shown to be effective on a wide range of sheep across a large number of studies including off-shears, shorn sheep up to 7 days off-shears, unshorn lambs, sheep with short and long wool, and off-shears and long wool ewes with lambs at foot.
Lice control is not affected by rainfall before or after treatment.
Active Ingredient: Fluralaner 10g/L
Dose Rate
Dose rate is the same no matter the length of wool.
The following table may be used as a guide:
| Body Weight (kg) | Dose Rate (mL) | Doses per pack (5L) | Doses per pack (20L) |
| --- | --- | --- | --- |
| 6-10 | 1.5 | 3,333 | 13,333 |
| 11-16 | 2.5 | 2,000 | 8,000 |
| 17-20 | 3.0 | 1,666 | 6,666 |
| 21-30 | 4.5 | 1,111 | 4,000 |
| 31-40 | 6.0 | 833 | 3,333 |
| 41-50 | 7.5 | 666 | 2,666 |
| 51-60 | 9.0 | 555 | 2,222 |
| 61-70 | 11 | 454 | 1,818 |
| 71-80 | 12 | 416 | 1,666 |
| 81-90 | 14 | 357 | 1,428 |
| 91-100 | 15 | 333 | 1,333 |
Pack sizes: 20L & 5L
1.5 mL per 10kg body weight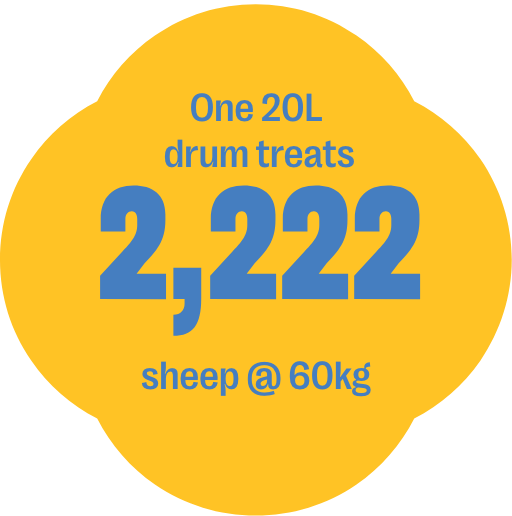 Use approved Flexolt applicator or any applicator that can achieve required dose increments and calibrate before use. The Flexolt 15mL Oral applicator from Simcro is recommended and offers 0.5 mL increments to 10 mL, then 1 mL increments between 10 mL & 15 mL.
PPE
Flexolt is a ready-to-use formulation, as per label directions, when using the product wear elbow-length PVC gloves and buttoned down (neck and wrist) cotton overalls or equivalent clothing.
Application Guidelines
• Determine the correct dosage for animals based on weight.
• Dose the mob to the heaviest animal by body weight in each group
• Drafting into two or more lines may be appropriate, to avoid excessive overdosing.
• It is recommended that as sheep are treated, they are marked (with a crayon) so any untreated sheep can be identified and treated.
• Most commonly available drench applicators will be suitable – ensure they are clean and working well and calibrate before use.
• Use a 10mm tube between the backpack and applicator to ensure optimal refill time.
• Rainfall before or after oral treatment will not affect lice control
• Rinse applicator and tubing with water at the end of each day used
Withholding Periods
MEAT – DO NOT USE less than 14 days before slaughter for human consumption.
WOOL HARVESTING INTERVAL: Zero (0) days.
Trade Advice
EXPORT SLAUGHTER INTERVAL (ESI): DO NOT USE less than 54 days before slaughter for export.
Restraints
DO NOT USE in lambs less than 6 kg body weight.
MILK – DO NOT USE in ewes which are producing or may in the future produce milk that may be used or processed for human consumption.
DO NOT re-treat animals for 54 days after last treatment.
Additional Information
Flexolt is safe for use in breeding rams, pregnant and lactating ewes and ewes at the beginning of joining. However, safety in ewes during mating has not been established. At present, concurrent use with a drench is not recommended.
Brochure, Label & SDS