Revalor® XR
The first delayed and extended release HGP implant approved for use in Australia in heifers and steers.
Use of REVALOR XR with REVALOR H: less handling means less stress on cattle and more efficient use of labour whilst maintaining growth responses you would expect if re-implanting with REVALOR H on day 70.
ONLY REVALOR H can be used concurrently with REVALOR XR.
When used concurrently REVALOR XR and REVALOR H will provide continuous improved growth promotion and finishing for up to 200 days in heifers and steers.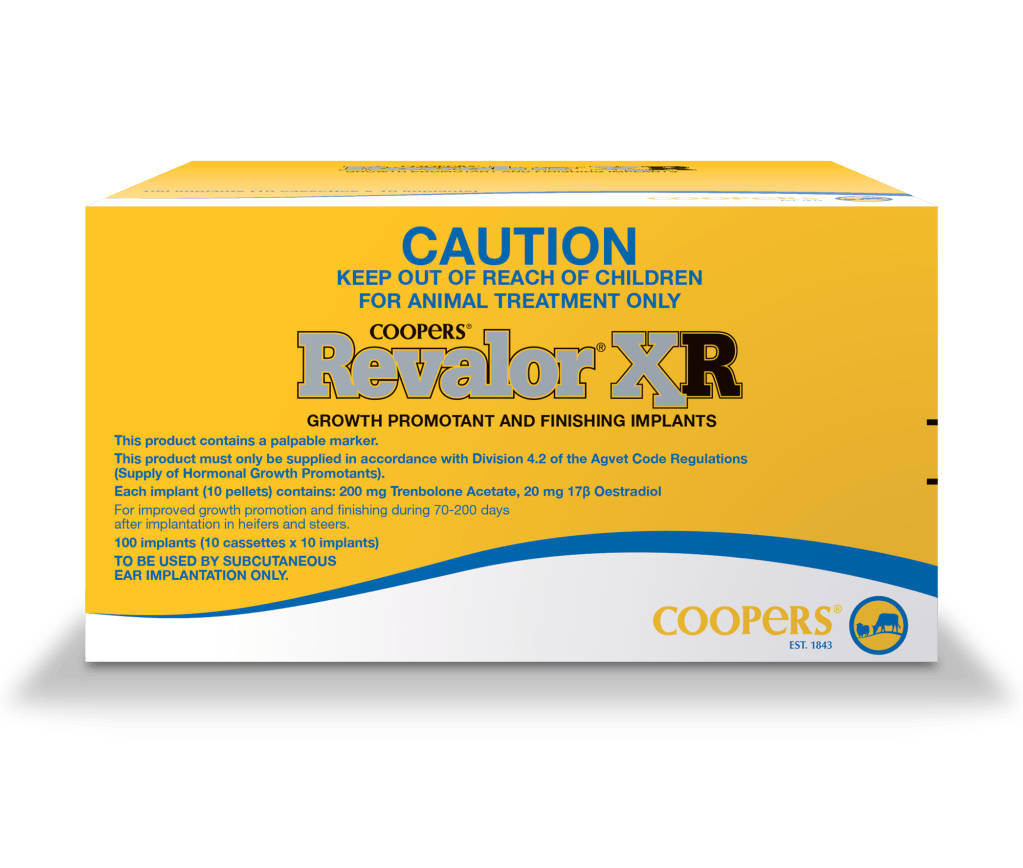 Features
• No need to re-handle cattle through the crush and re-implant at Day 70 – Reduces risk of injuries to cattle or workers.
• Less stress on animals – No reduction in feed intake.
• Improved labour efficiency.
• Growth responses for Revalor XR (implanted on Day 0) are similar to that of a typical HGP program when cattle are re-implanted with Revalor H on Day 70.
Trade Advice
Category: Growth Promotant
Species: Beef Cattle
Active: 200mg Trenbolone Acetate. 20mg 17β Oestradiol
Pack Size: 100 implant pack
Withholding Periods: Meat = Nil. ESI = Nil.
Storage: Store below 25 degrees (Air conditioning), Protect from light
APVMA: 90903
Dose Rate
FOR USE ONLY in steers and heifers producing beef for human consumption.
USE ONLY one implant per animal in all cases
Cannot be used concurrently with any other implant with the exception of Revalor H implant
To be used by subcutaneous ear implantation only (beneath the skin in the middle third of the back of the ear)
Growth responses may vary widely for nutritional or other reasons.