Amitik EC Cattle and Pig Spray
Controls organophosphate and synthetic pyrethroid resistant Cattle Tick (Boophilus microplus), Paralysis Tick (Ixodes holocyclus) and Bush Tick (Haemaphysalis longicornis) in beef and dairy Cattle, in an easy to use liquid formulation. Also controls Cattle Tick on sheep, goats, deer and certain circus animals in NSW only and Mange in pigs.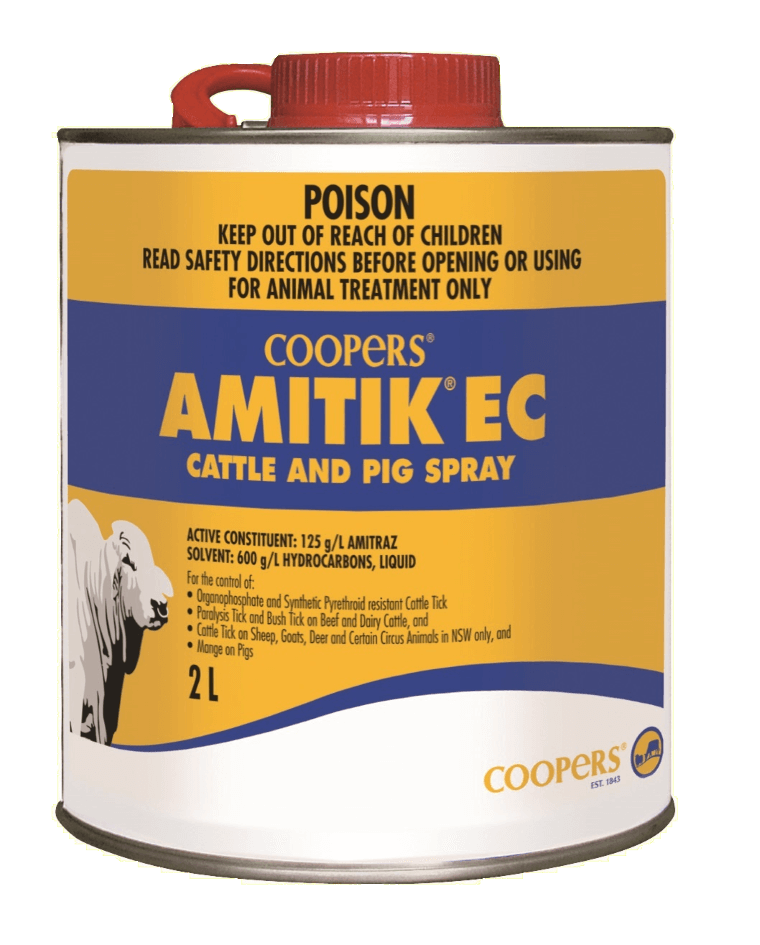 Features
Liquid formulation
Nil meat and milk withholding period and ESI giving farmers greater flexibility particularly if clearing cattle of tick prior to sale
Following treatment, cattle will be clean of ticks within 3-4 days and larval ticks are prevented from attaching for up to 7 days after treatment.
Trade Advice
Category: External Parasites
Species: Beef and Dairy Cattle and other species
Active: 125g/L Amitraz
Pack Size: 2L
Withholding Periods: Meat = Nil, Milk = Nil, ESI = Nil
Storage: Store below 30 degrees
APVMA: 45044
Contraindications:
Do not use on horses, other equines, felines or chihuahua dogs.