Features
Easy to use, water soluble sachets
Nil meat and milk withholding period and ESI giving farmers greater flexibility particularly if clearing cattle of tick prior to sale
Following treatment, cattle will be clean of ticks within 3-4 days and larval ticks are prevented from attaching for up to 7 days after treatment.
Trade Advice
Category: External Parasites
Species: Beef and Dairy Cattle and other species
Active: 500g/kg Amitraz
Pack Size: Bucket with 5x500gm satchel, 2.5L bucket, 52.5kg pastoral pack
Withholding Periods: Meat = Nil, Milk = Nil, ESI = Nil
Storage: Store below 30 degrees
APVMA: 41044
Contraindications:
Do not use on horses, other equines, felines or chihuahua dogs. This product is for use only in NSW, QLD, VIC and NT.
Amitik WP Cattle Dip and Spray
Controls organophosphate and synthetic pyrethroid resistant Cattle Tick (Boophilus microplus), Paralysis Tick (Ixodes holocyclus) and Bush Tick (Haemaphysalis longicornis) in beef and dairy Cattle, in a easy to use liquid formulation. Also controls Cattle Tick on sheep, goats, deer and certain circus animals in NSW only.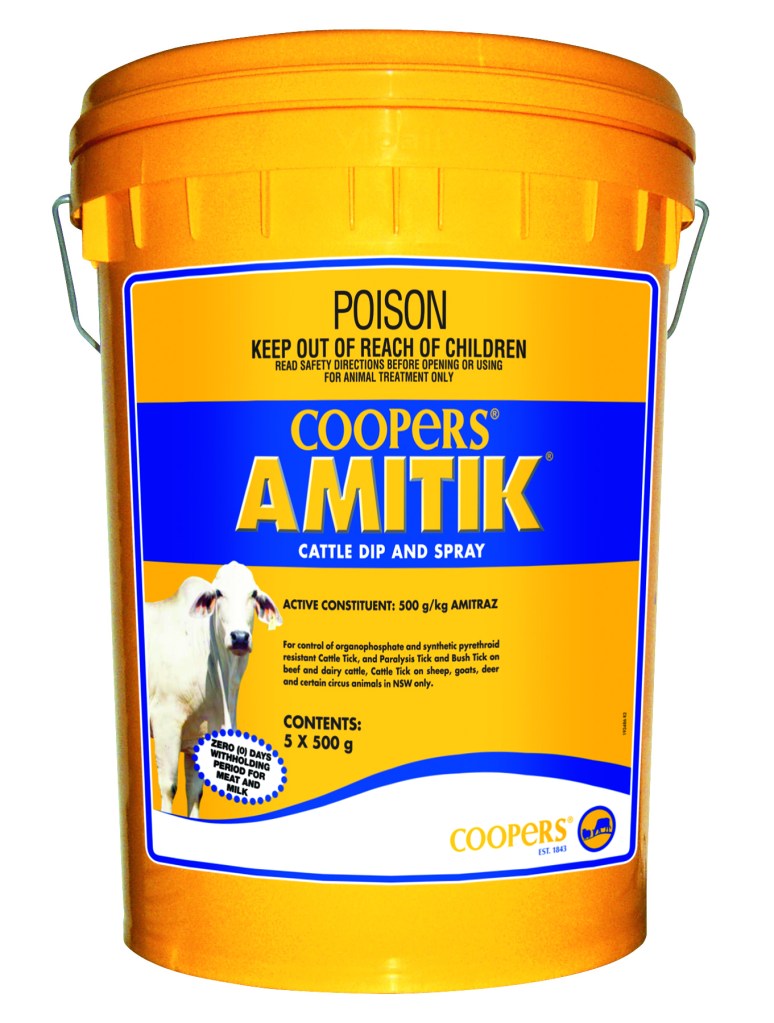 Dose Rate
500 g/1000L water. Plunge dips and stabilised spray races also require 10kg stabiliser/1000L water. Plunge dips require Topping Up when the level of the dip falls by no more than 700L, add 500g Amitik and 10Kg Stabiliser for 700L dip volume. Spray races require Reinforcement. Each time the spray wash in the sump drops by 300L add 100g Amitik. Do not add water or stabiliser. See product label for detailed instructions on use.