Guardian 6 in 1
To provide immunity to sheep and lambs against Pulp Kidney (Enterotoxaemia), Black Disease, Blackleg, Malignant oedema and Tetanus (clostridial diseases) and Cheesy Gland.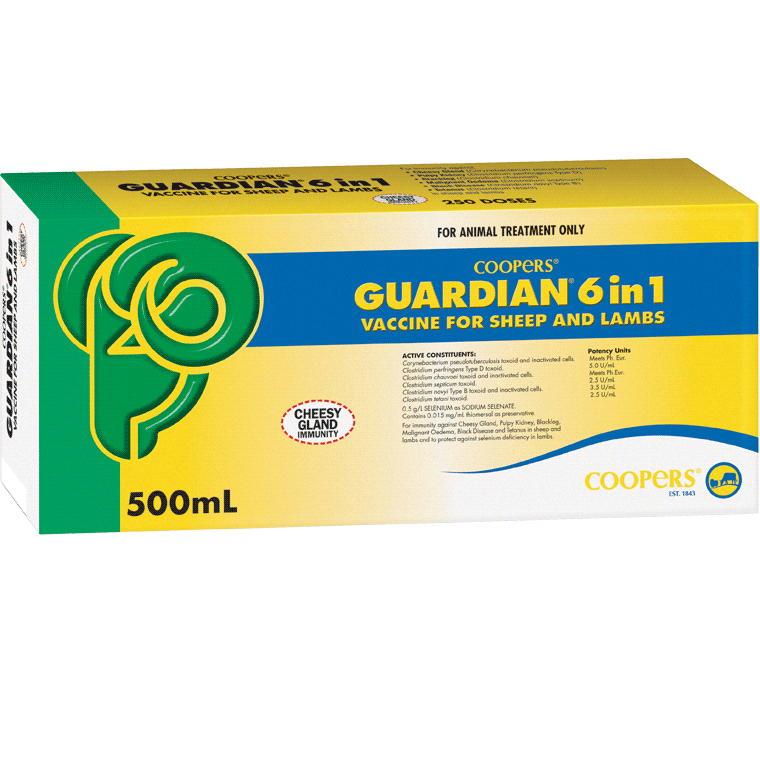 Features
Protection against pulpy kidney, black disease, tetanus, blackleg, malignant oedema and cheesy gland in sheep and lambs
Trade Advice
Category: Clostridial Vaccine
Species: Sheep
Active: Clostridial perfringens (type D), Cl. novyi, Cl chauvoei, Cl septicum, Cl. tetani, Corynebacterium pseudotuberculosis.
Pack Size: 500mL
Withholding Periods: Meat = Nil, Milk = Nil, ESI = Nil
Storage: Store between 2°C – 8°C (Refrigerate. Do not freeze)
APVMA: 46578
Dose Rate
2mL subcutaneous injection. Initially give two doses 4-6 weeks apart followed by an annual booster, ideally given to ewes 2-3 weeks pre-lambing.