Assassin Sheep Dip
For the control of Temephos susceptible Body Lice (Bovicola ovis), including synthetic pyrethroid resistant strains. For use on wet or dry sheep (14-42 days after shearing) by plunge or shower dipping.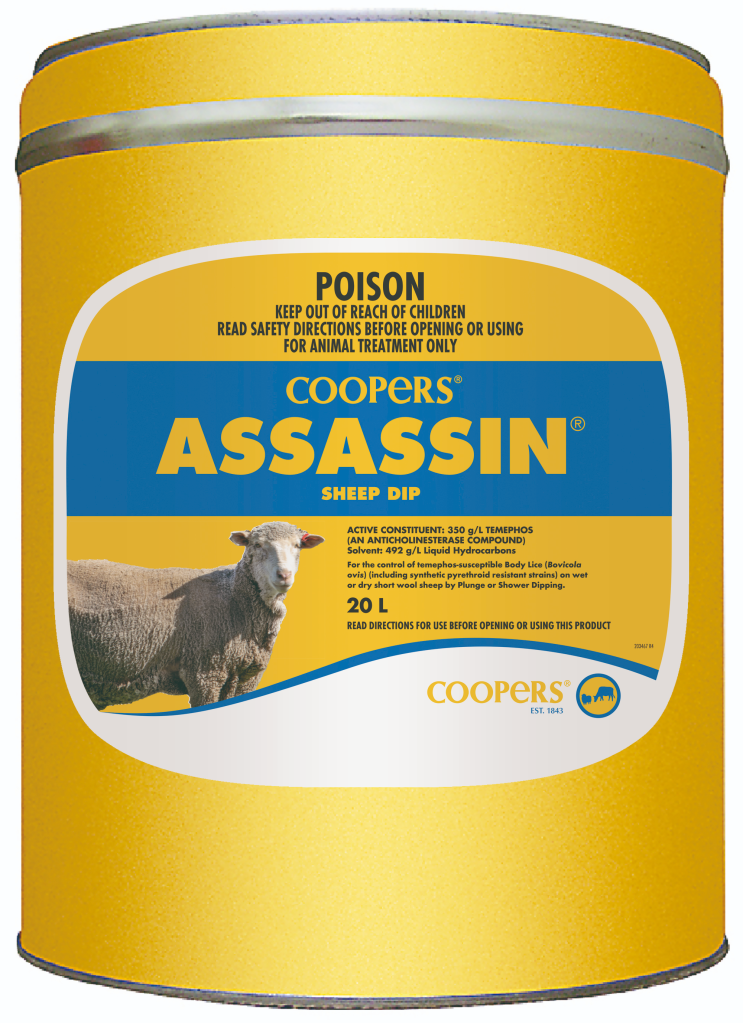 Features
Highly effective organophosphate alternative to diazinon for effective sheep lice control
Provides rapid knockdown of lice soon after treatment
Can be used in a plunge or shower dip
Non-stripping dip which makes topping up simple without the need to reinforce the dip
Can be applied to wet or dry sheep
Trade Advice
Category: External Parasites
Species: Sheep
Active: 350g/L Temephos
Pack Size: 5L, 20L
Withholding Periods: Meat = 14 days, ESI = 42 days, Wool withhold = 6 months before shearing or fibre collection, Wool Rehandling Period = once sheep are dry after treatment, Milk = Do not use where milk will be used for human consumption.
Storage: Store below 30 degrees
APVMA: 47568
Dose Rate
Initial charge: 100 mL/100L of water. Topping up when dip/sump level falls by no more than 25% add 100 mL/100L of fresh water. Dipping out when dip level intended to fall by more than 25% but not more than 50%, add 25ml Assassin each time dip level falls by 100L.