Cattlevax LC 7 in 1
Leptospiral and Clostridial vaccine for Beef, Dairy Cattle and Calves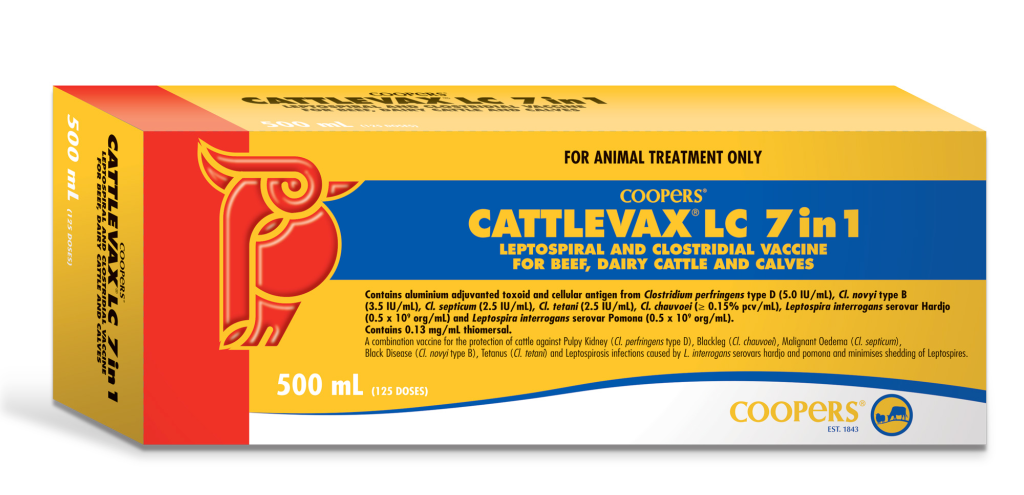 Features
Protects against blackleg, black disease, pulpy kidney (enterotoxaemia), malignant oedema, tetanus, as well as L. hardjo and pomona.
Minimises shedding of Leptospire organisms in the urine. This is important as Leptospire organisms shed in urine are a major public health hazard.
Trade Advice
Category: Clostridial Vaccine
Species: Beef and Dairy Cattle
Active: Clostridium prefringens (type D),Cl. novi (type B), Cl.chauvoei, Cl. septicum, Cl. tetani, Leptospira interrogans pomona and Leptospira interrogans hardjo.
Pack Size: 200mL, 500mL
Withholding Periods: Meat = Nil, Milk = Nil, ESI = Nil
Storage: Store between 2°C – 8°C (Refrigerate. Do not freeze)
APVMA: 53206
Dose Rate
4mL subcutaneous injection. An initial course of two vaccinations 4-6 weeks apart, followed by an annual booster.